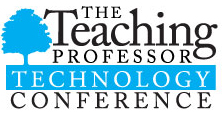 Madison, Wis. (PRWEB) July 15, 2014
Magna Publications is pleased to announce the full lineup of speakers for the 2014 Teaching Professor Technology Conference, as well as the addition of a two-day extended pre-conference workshop on blended learning course design that was just added to the program.
Coming to Denver, Oct. 9-12, The Teaching Professor Technology Conference provides a thought-provoking and stimulating conference for educators of all disciplines and experience levels to share practical ideas and best practices for using technology to advance teaching and learning in higher education. Registration is now open.
The annual conference brings together approximately 750 educators from colleges and universities throughout the United States and Canada. The conference features five preconference workshops, more than 70 concurrent sessions, and 20 poster sessions. It also includes plenary presentations by three highly respected educators:


Alec Couros, Ph.D., associate professor, University of Regina, Canada
Plenary Title: Embracing Social Networks for Teaching and Learning
Timothy D. Wilson, Ph.D., associate professor, University of Western Ontario, Canada
Plenary Title: Making Sense of the Neuroscience behind Learning
Barbi Honeycutt, Ph.D., director of Graduate Professional Development and Teaching Programs at North Carolina State University and founder of Flip It Consulting
Plenary Title: Game On! Four Ways Games Can Enhance the Flipped Classroom
The conference program consists of 45-minute and 75-minute concurrent sessions related to these key topic areas: